Name: Cristina Vila
Age: 22 
Tell us something about yourself, when, why and how did you become a hair and make-up artist?
First I only wanted to be a make-up artist, but then when I came to Holland they told me how to do both. So that's how I started to do the hair as well. And about the make-up, where I come from I studied art and we used to draw people in portrait and then I started collecting pictures from magazines to use them as references and I started just looking at the make-up and saw how beautiful it was.
What do you like the most about your job as a hair and make-up artist?
I like that it's not fixed, you don't work every day on the same place. I think that's great and you meet lots of people. I like working with the models as well and seeing the transformations, the before and after. When the models come in they already look really gorgeous, but after I've done their make-up they look even better.
What was your favorite shoot where you did hair and make-up?
I have one shoot very much in my mind because it wasn't a normal shoot. It was not fashion photography, but product photography. There where twelve models just for the legs and I had to put make-up on the legs. That was really weird and funny.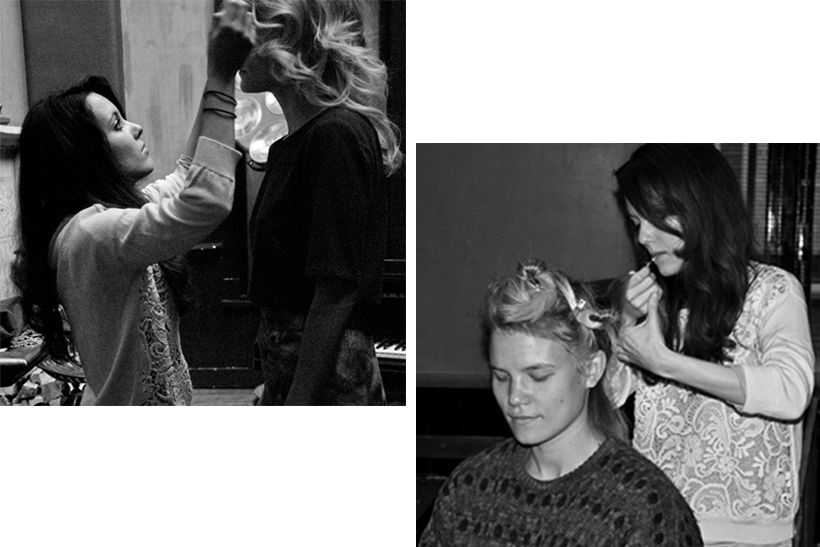 What's your favorite make-up look?
A little bit of everything. I like if it's natural with really beautiful glowing skin. That's very much my style. It's not about the natural, but about the skin, the glow. Honestly I just like everything that looks beautiful, a nice eye or a nice eyebrow, a beautiful red lip. My style is very much about beautiful, which is not so good because in fashion sometimes you need to make mistakes and be okay with that. So that's something I'm trying to do know.
Do you have a particular style?
Sometimes I try to make it too perfect. I'm really perfectionistic and I need to accept my mistakes. Because mistakes are also beautiful.
How do you handle the stress behind the scenes?
There is stress. In the beginning I had a lot of stress, because I wasn't sure about my style and my abilities. I was not confident about my work. But I think I had so much stress because I wanted everything to be perfect.
Is working in fashion really as hard as everyone thinks it is?
I think it's harder for the models, because they have to look beautiful and they have a lot of pressure. I just have to do my job. I mean people aren't focused on me, only on the make-up. The pressure for models is really harder, because everyone's around the model.

Can you tell us something about your passion for art?
I definitely have a passion for art. When I was a little girl I spent my days with drawing and painting. And when I was studying art in college I really liked learning about other artists and their visions and why they create a particular piece and the story behind it.
Where do you live at the moment?
I live in Amsterdam for a year and a half with my boyfriend.
Last but not least, a few more questions about This is Lily. What do you think about the brand?
I think the brand is quite fresh and spontaneous. You could just wear it anytime you want and be confident and sexy, but still fun. I think the patterns are not something everybody would wear. I wouldn't wear it, but that's because it's not something for me. But I really like them though.
What is your favorite item from our latest collection?
I just saw the brown coat, and I really loved it. I'm a big fan of beautiful coats.
Which city do you think is the best place to sell This is Lily?
I think somewhere in Italy could be nice, because Italian women are very fashionable but in a very fun way. They just wear what makes them feel beautiful and they really love to make themselves beautiful and follow fashion. In Holland women aren't caring so much.
Any last words for This is Lily?
Let's keep the thing going!